Paule Antonelli
French Translations
Welcome! Bienvenue!

If you need some

English material translated into French
French material proofread or edited

You have come to the right place.

E-mail me, providing the following information:

subject matter (or even better, the document, or representative samples, as an e-mail attachment)
total number of words (if at all possible)
format needed for the French, if different from the English
deadline.

Then I can let you know if I am the right person for the job, if I can do it in time, and what it will cost you.

OFFICE HOURS: I am currently working full time for the federal parliamentary interpretation services, and only moonlighting in written translation – but never for translation agencies, sorry. Reach me via e-mail preferably.
---
paule@frogtrans.com
Ottawa, Canada (EST, Greenwich - 5 h)
Phone: 613 789-5340

Professional work
Competitive rates
References on request

I was born to a French family in Madagascar, and lived most of my childhood in the capital, Antananarivo – Tana, for short. Back then, all students in the city were taught in French, with Latin thrown in for good measure! As a teenager, I moved to France, where I attended high school and university. With my marriage, I moved to an even colder place: Edmonton, Alberta, in the Western part of Canada. For 20 years now, I have been living between two cultures, going back to France for three months every other year or so + spending all of the 2001-2002 school-year there. In 2002, I went to Ottawa to attend university, and am now living on the Gatineau side.
I have carried out graduate studies in both Canada and France – can't seem to get past the M.A. level, though :-)
M.A. in English Literature, Université Lyon II, 1980
M.A. in French Literary Translation, University of Alberta, 1984
M.A. in English-French Conference Interpretation, University of Ottawa, 2003
Professionally, I passed a national proficiency exam, and have been a
Certified English-French translator (ATIA, Canada), since 1997
As such, I abide by a strict Code of ethics. Clients can be assured of
Quality work, on time
Open communication about my eventual limitations for a given job
Complete confidentiality
As a further safeguard, I am covered by a
Professional liability policy, against errors and omissions.
---
Written translation
In two decades of free-lance translating (full time 1998-2002) I have tackled a wide array of projects. I work especially well and fast on material of a fairly sustained language level: company presentations, newsletters, academic or business reports, etc. And I am good at finding out exactly what the client wants, both at the outset, and when questions arise in the course of a job, which saves everyone a great deal of frustration.
Recent Translation Highlights

S360 Web Based e-mail application
Classroom Management: What Works, Alberta Teachers' Association publication
CD Liner notes for the Edmonton Composer Society
Center for Knowledge Transfer Web site
Maxima Pharmaceuticals Web Site
Various
Education manuals, workshop notes...
Academic abstracts and papers: history, sociology, education, engineering, medicine, biology...
Business: company profiles, reports, correspondence...
Sociological surveys
Legal documents: work agreements, court transcripts, decisions, contracts, warranties...
Chemical products safety data sheets
Users manuals, labeling, packaging
Video scripts (voice over, too)
etc.
Periodicals
Newsletter, Decoma (auto parts), 2001-2003
Training program catalogue, Canadian Petroleum Institute, 1996-2000
Newsletter, Canadian Association for Gift Planning, 1999-2000
Newsletter, Canadian Committee on Women's History, 1992-1995
Newsletter, Canadian Association for Adult Cystic Fibrosis, 1989-1992
Books
In My Classroom: A Guide to Reflective Practice, USAID Development Information Services, 2003
Children's books, 1998-2002 – 37 of them, with several collections of classic tales, a couple of fun stories, and a series of very basic board books (colours, shapes, etc.), all for Creative Publishing. Loved the rhyming, puns, etc.
A Treasury of Cookbook Classics, John Butler, Creative Publishing Inc., 1998
Four volumes with topical quotes in prose and verse, 1998:

A Gift for Mother: Mothers, a collection of poetry and prose in celebration of mothers + Address book, DS Max, 1997
Mother's Memories - For My Daughter, compil. Deborah Nixon, design et photo Robyn Lacimer, Lansdowne, 1997
Mother's Memories - For My Son, compil. Deborah Lacimer, design et photo Robyn Lacimer
Grandmother's Memories - Reflections and Remembrances, compil. Deborah Nixon, design et photo Robyn Lacimer

Michelin Travel Writings

Green Guide to Florida, 1997 (collaboration)
Green Guide to Canada, 1993 (collaboration)

Family Life and the Law in Canada, Maria Carey, Changing Together... A Centre for Immigrant Women, 1995
A History of the Canadian Society of Nephrology, John B. Dossetor, 1985
L'écriture à la source, translation of a choice of Margaret Laurence's articles about roots and writing, 1984 (unpublished M.A. thesis)
---

Editing and writing
These days, I often find myself checking someone else's writing or translation. Actually, I have trouble refraining from doing it, when I am not supposed to.
Editing French translations: for various translation agencies, 1998-2003; for Michelin Travel Writings, 1992
Writing, editing and page-setting the newsletter of the Alliance française, in Edmonton, 1985-2001. How is that for being a dedicated volunteer? Issued every month, then every three months, it has never spread beyond a double-sided legal page. But it has given me lots of hands-on word-processing practice with MS Word – columns, frames, imported graphics, headers, footers, styles, templates, mail merges, and more.
Checking cuts on videos, Access Public Television, 1999
Translating and editing, for a collection of articles on a French horticulturist, writer and settler in Alberta: "Voix de la multitude. Hommages à Georges Bugnet", ed. Gamila Morcos, Cahiers Franco-Canadiens de l'ouest, vol. 11, nos 1-2, p. 33-75.
Proofreading French novel study guides for elementary and junior high: Editions Boussoles, editor Karen Olsen,1998-1999; Editions Comment Écrire, 1998
French essay writing: course taught at university, winter 1998
Fiction – as of 1997, I can finally say that I have a piece in print; it came first in a short-story competition organized by Edmonton's long standing French language weekly, Le Franco.
Writing and editing entries for a dictionary of artists: Dictionnaire des artistes et auteurs francophones dans l'ouest, Gamila Morcos ed., Université Laval,1997-1998
French administrative letter writing: course taught to federal employees, 1996
French M.A. theses: proofreading, editing, and typing,1984-1987
---
Oral interpretation (I am NOT freelancing in that field currently)
I first tried simultaneous conference interpretation in 1984, and got such a rush out of the experience that I then worked whenever I got a chance – when full fledged certified interpreters were either unavailable or beyond a client's budget, i.e. a couple of times a year at the most. I finally decided I might as well learn the ropes, registered for the University of Ottawa conference interpretation program, got my M.A. in 2003, and have been working for the federal Parliamentary Translation and Interpretation Branch ever since, interpreting 4 days a week when Parliament is in session.

Community interpretation, when a person speaks, stops, and lets you translate afterwards, is a much more collected process. I used to enjoy interacting with clients in various settings:
Court
Discovery hearings
Special presentations
Trade/business talks
---
Rates and turnaround
Currency converter?
CANADIAN DOLLARS
Per hour
Translating, proofreading or editing
45.00
Per English word1
0.13
0.18
0.24
Third party proofreading2
.05
Minimum per job
40.00
1 Rate per English word (Should work out to be the same as my per hour rate. I just try to estimate the time I'm likely to need on a client's given job, so as to give a definite dollar figure.)
2 Third party proofreading is a process I highly recommend if the material I translate is due for publication. The ideal proofreader is a person in your organization, with a sound knowledge of both your field and written French. Failing this, I can usually arrange for a colleague to proofread my translation and send corrections/suggestions back to me, for the extra per word fee indicated. Note that another good use of third party proofreading is the production of material suitable for several markets : Quebec and France, for example.
Output and turnaround (for material of a general nature)
6000 translated words a week is the maximum I can currently fit in around my day job as an interpreter
8000 edited per work week
I love translation, so don't mind going back to it of a week-end, but I try not to overcommit, so I can a) do a thorough, professional job; b) always fit in a couple of hundred words for a client in a rush; c) hang on to my sanity.
---
Language teaching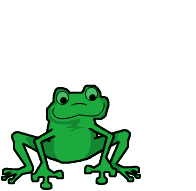 I have a teaching degree from France (CAPES, Certificat d'aptitude à l'enseignement dans le secondaire), for teaching English as a second language. However, while I taught a year of high school English there (1981-1982), and also trained adults upgrading their skills (1981), I have had far more experience teaching French as a second language and French to native speakers (and I never have to founlr vhrvk the pronunciation, which is great). Here is a list of my employers in that field – part-time, 1981-1988, and 1992-1998:
Faculté Saint-Jean, Edmonton - 1997-1998, 1987-1988, 1986 (to native speakers: Essay Writing; Spoken/Written French; Translation from English)
Language Training Canada, Edmonton - 1992-1997 (Spoken French; Administrative Writing)
University of Alberta's Extension Department, 1996, 1995, 1984-1986 (Spoken French; Writing and Correspondence)
Alliance Française d'Edmonton - 1985 (Spoken French; Organizing Classes)
University of Alberta's Romance Languages Department - 1983-1984 (Conversational French)
University of Brandon, Manitoba - 1979-1980 (Conversational French)
GRETA Tête d'Or, Lyon, France, 1980-1981 (to native speakers: Oral skills)
---
Technical specifications
Hardware

PC with Windows XP
DVD reading
CD reading and writing
High speed Internet and e-mail connection
Laser printer

Software

Wordprocessing: Microsoft Office XP (Word, PowerPoint, Excel)
Translation memory: WordFast
pdf: Acrobat 5.0, full version
Antivirus: Norton (definitions updated every day)
Compression: Winzip
File transfer protocol utility: FTP Commander

Reference material (within arm reach)

French and English spellchecks
On line terminology data banks: Termium, Government of Canada (subscription); Grand dictionnaire terminologique, Quebec
Single language dictionaries on hard drive: Random House Webster's unabridged, Petit Robert
General English-French dictionary: Harrap's unabridged
French Language dictionary: 7 volume Grand Robert
Specialized English-French dictionaries: Industrial Processes (Ernst) + more
---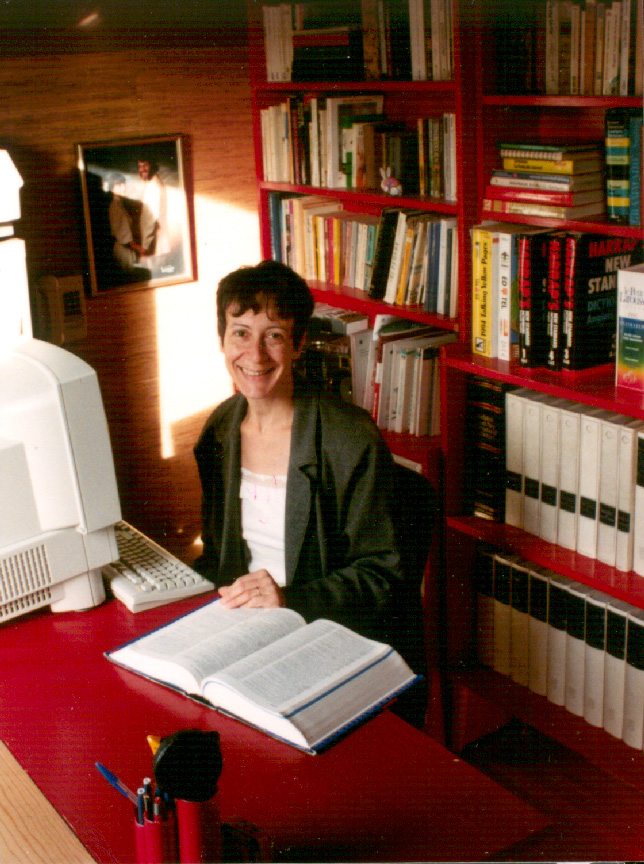 More about me
At home, here I am, doing something I really enjoy – sitting at my desk, getting ready to tunnel into translating work, with a variety of glossary and search windows opened on the screen, many reference books at hand, and a chance to get into the flow of things, only surfacing when I next get hungry, or restless.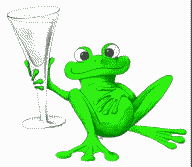 Cooking is a nice break, and a chance to catch up with the news, on the radio. So I start from scratch, and fix decent meals. When I have lots, and it looks good, I call friends to share – rather unconventional, but they don't seem to mind, gladly sampling French soups cooked in a pressure cooker, Creole dishes from my youth in Madagascar, and all the "American" discoveries of the last 20 years… like okra, chili, or bok choy.
Exercise? I have no problem burning the calories off, as I haven't owned a car in years – I just ride a bike (in winter too, yeeaaaw!), walk or rollerblade. Still, between May 1998, when I stopped teaching altogether to translate full time, and September 2002, when I verged off into interpretation, I spent a mind-boggling, butt-numbing amount of time sitting at my desk.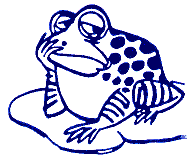 Computers have been part of my life since 1980, when I first discovered word-processing. That makes me a pioneer of sorts, I guess, or maybe a helpless guinea pig. I vividly remember kicking the wall in sheer frustration, when I tried to configure my first e-mail account – back when it involved juggling mystery acronyms as DNS and POP, and painstakingly typing strings of numbers and periods. My most amazingly pointless accomplishment? Learning HTML coding, when I first produced this page, and didn't have enough memory to run an HTML editor.
---
Some personal and professional links
---
All in a day's work!
You get up at 7:30, grab a bagel and eat it at the computer, proof-reading the translation promised to the client by 9:00 – fresh in your mind, since you were working on it until 1:00 in the morning. Send it off by e-mail. Find 9 new messages:
7 from job boards, which you have no time to check
1 from a client who has been unable to open the attachment you sent yesterday, so you save it under a different format and send it again
1 humongous pdf file, from a printer who needs you to check packaging created from a translation you made
They have added capital letters to all words in the French titles, removed the spaces in front of the dollar and per cent signs, and used English hyphenation. No doubt thought they were doing you a favor, too! You breathe a long-suffering sigh, then get to work, cutting and pasting the parts with mistakes into a Word document, with a variety of circles, arrows, and typed corrections, to indicate what changes to make where. You send that off.
By then, it's 10:30. You're hungry again. You grab another bagel. While your mouth is full, the phone rings – never fails. You mumble an indistinct professional greeting. Someone needs a birth certificate translated and wants to know how much you charge. Does it need to be a sworn translation? Yes. You explain that you'll have to take the translation and a statutory declaration to the nearest Commissioner for oaths, bill for 2 hours work, and that you really cannot do it until Monday. The client curtly informs you this won't do, and hangs up.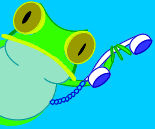 You figure you can get back to that big project of yours. Nice, easy deadline, you thought when you first got it. Somehow, though, you have had to squeeze in half a dozen "little" jobs first, and that deadline is getting awfully close. You've translated about 200 words (only 10,000 to go before next week), and you are just getting into it, and starting to move along, when you hear the phone again. You let it ring a couple of times so that you can at least finish your sentence, sigh, and pick it up. Weary professional greeting. Someone needs a contract translated, in the field of petroleum. Wait! Did they say from French into English? You rush to give them the name of a colleague, thrilled to have one less item to juggle.
As you are about to start on your large project again, you figure you might as well have lunch first. While the canned soup heats up, you remember that your kid complained that he was out of clean underwear. You go to the basement, and run a load of washing. By the time you come back up, the bottom of the pan is burnt, and the soup tastes smoky. You eat it anyhow (don't they have some sort of burnt hot pepper stuff in Mexico that's supposed to be a delicacy?), and leave the pan to soak in the sink.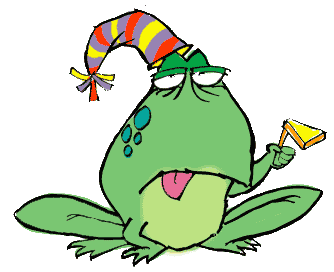 Your kid comes home from school, and smirks because you somehow never got around to combing your hair. He has a form for a school trip. You sign without looking. (Later, you find out it's a ski trip to the Rockies, and you've agreed to pay $300.00 – good thing you have been busy working and making money!)
Dinner time rolls around. You have somehow managed to clock in exactly 1 hour and a half on your big project. And the lack of sleep is catching up with you. As you fix supper, you find yourself standing in front of open cupboards, wondering what you meant to get. You can barely keep your eyes open.
Still, the food perks you up, and you manage to put in two hours of uninterrupted work after supper. You have another bagel. Then another two hours of uninterrupted work: sheer bliss! You go to bed feeling much better. It's 12:00, and, one way or another, you have been working for 17 hours straight.
---
Created and maintained by Paule ANTONELLI
Last revised: March 2008